Good Morning Friends,
Yesterday was an interesting day. It started off normal.
Breakfast;
2 eggs, turkey bacon, whole grain 0 sugar tortilla w/cheese and some black and blueberries.
For lunch Hubby and I decided to go to my Favorite place - Chipotles. I had my usual salad w/lettuce, black beans, spicy beef, sour cream, cheese and guacamole on top w/water.
Hubby had a bowl w/brown rice and black beans, meat, corn, cheese and guac and always complains that its too much food. I always tell him get a salad instead of the rice - but he never does and just complains every time. ya-ya-ya
Then we went to AAA to switch the new plates that came in the mail for my new car for the Firefighter ones. Did that - then we went to Burlington Coat Factory across the street.
I am having a residual problem from losing so much weight. Before I was a size 20-18 and wore a 40 DD bra. When I lost 90 lbs I had to replace EVERYTHING in my wardrobe. I replaced my bras already with a size 36d - but have noticed that the cup seems to be too big.
Ever since I was a teen after I budded I was always a DD. I always wanted to be a C cause I thought it was a normal size. So I wanted to try some new ones on in a size C. Well the problem is - and I hope there is no men reading - They are kind of like deflated balloons now and not firm at all. So I couldn't really find any I liked.
We went to Kohls and I tried some there - but I was tired and disappointed and just wanted to go home. So I guess I will have to go someplace that has a bigger selection like Macy's or a bra store. I am now a V.S. fan and they are too expensive to not love them. SO I am still wearing bras that are too big. Oh well.
You see the problem we women have? Feel too fat and lose 90lbs. Then now I am skinny and still feel fat cause of the lose skin in some places. which thank goodness I can cover with clothes. LOL.
dinner;
You know what this is. Cauliflower crust pizza.
Desert was a chocolate coconut muffin w/ some S/F chocolate chips inside. I am in love with these and so fluffy and good.
Hubby wanted me to make 1 for him but instead of the S/F maple syrup he says he wants honey in his. He loved it and insisted that his was better cause of the honey - I told him they probably tasted exactly the same.
Melody asked how I fix the wings I always eat.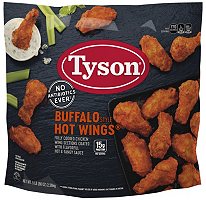 I buy these at Sam's Club - love these cause they have no breading and I just put them under the broiler for a few minutes on both sides. Yum.
Anyway - that was my day and I hope you all had a great one. Thanks for listening.
This is PurpleRosy signing off...
My thought for the day:
Believe that you have it, and you have it.
Keep on BFC ' n :-)
*****************